OUR ADULT DAY SERVICES IN SARASOTA
At Town Square Sarasota, we're confident the adult day care services we offer are the best local option for people with dementia and their caregivers. Our programming helps us accomplish our most important goal: Bringing happiness, fulfillment, and relief to senior citizens, whether or not they have memory or cognitive impairment.
Whether our members are with us for every weekday or just a short time while their caregiver takes a respite, their participation makes every moment at Town Square Sarasota special for all of us.
All of our senior day care services are based on reminiscence therapy, a revolutionary idea in dementia care. This means our approach involves encouraging our members to reflect on the memories they formed in their teenage years and twenties, which studies have shown that people with memory loss are best able to retain.
Our activities are structured around themed areas called storefronts, each of which is designed to evoke specific memories of young adulthood in the '50s while serving as a place for an ever-changing slate of enriching experiences.
Contact us to inquire further, or book a free tour – come see us in action, and we know you'll want to be a part of the Town Square community.
Our Commitment to Dementia Care
Our services are designed to engage people at all levels of cognitive ability, but we have a particular focus on serving the needs of our members who have dementia. Our staff members are trained to interact with people with cognitive and memory impairments in ways that make them feel engaged and included. Learn more about how Town Square integrates dementia care with our fun, social activities.
Introducing Our Storefronts
Town Square Sarasota features 11 different storefronts, each of which is focused on a specific type of activity, so our members always have a varied, interesting day with something new on the agenda.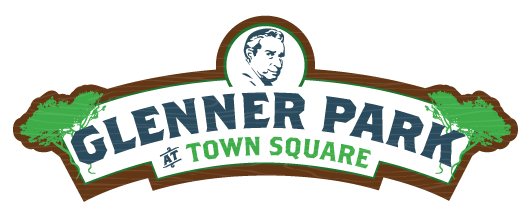 Glenner Park
The heart of Town Square Sarasota, Glenner Park is named for George G. Glenner, the dementia research pioneer whose work helped form the basis for Town Square's concept. Glenner Park features benches for relaxation and enjoyable conversation, and is also used for performances and large group gatherings such as exercising together.
Art Studio
We invite our members to get in touch with their inner muse at the Art Studio, where we encourage creative expression, innovative thinking, and improved manual dexterity. We always have a wide variety of art supplies available, hold lessons on new techniques and special art forms, and proudly display our members' works before they bring them home to their loved ones.
Rosie's Diner
Casting memories back to the lunch hotspots of the '50s, our bright and cheerful diner space lets our members socialize while enjoying healthy, delicious meals and snacks throughout the day and grooving to the tunes from the working jukebox.
City Hall
City Hall is our staff headquarters and its walls pay tribute to our military veterans. Our staff members are always accessible to answer any questions or simply to say hello.
Health Club
Our Health Club storefront is an open-plan fitness area with the latest in senior-friendly exercise technology. We also hold other large group activities, performances, and events in the open layout here.
LIBRARY
The Town Square Sarasota Library is one of many ways we engage our members' minds. We stock a variety of books to be enjoyed within the Library or taken to the park, as well as mid-century magazines as a vivid record of the history our members lived through.
Little Blue House
The Little Blue House is the perfect place for our members to make themselves at home. Designed to mimic a typical family living room, we use this storefront for relaxing appreciation of classic music or television.
Phil's Newsstand
Recreating the neighborhood newsstands of the 1950s, Phil's Newsstand offers both current and vintage newspapers and magazines to peruse, perhaps while relaxing in Glenner Park.
Recreation Center
Our Recreation Center features all of the vintage amusements that made game night fun in the '50s, like board games, card games, and puzzles, plus a pool table for those who would like to rack up the balls and dust off their favorite cue.
Starlite Theater
We pay tribute to the glitz and glamor of Old Hollywood in the Starlite Theater, which shows classic films, TV shows, and musicals, hosts movie trivia and discussions, and is used as a performance space for members' drama groups, talent shows, and visiting artists from the community.
finn's garage
Many of our members can vividly recall stopping at a small-town service station before a memorable road trip with friends. Finn's Garage pays tribute to the golden era of the American automobile by displaying a rare and gleamingly restored 1950s muscle car, the kind some of our members may have taken for many a ride in their youth. At this storefront, we reminisce about those great times associated with such iconic cars.
Our Other Services
We're mindful to structure our services and programming to fit the needs of our community and especially our local seniors. Visit our FAQs page or contact us for more information on our full service slate.
Dementia-focused psychiatrist on-site
PT/ OT and Speech Therapy on-site
Transportation coordination
VA Funding for Veterans
Coordinated care with other medical providers
Alzheimer's Association Caregiver support groups
Open "get to know us" events
Podiatrist
Hairstylist
Free Guest Day
Performances – orchestra, dance, improv, bands and more