WELCOME TO TOWN SQUARE

Combining Adult Day Care, Reminiscence Therapy, and Vintage Fun!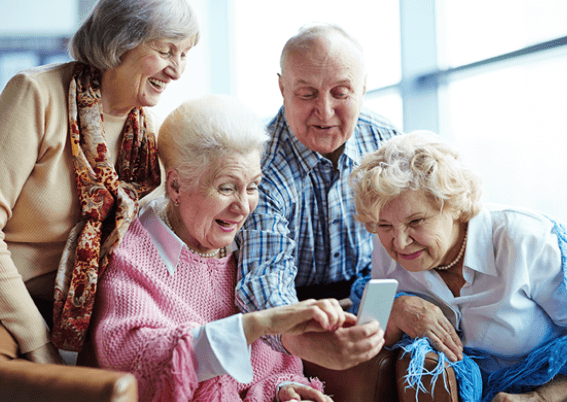 At Town Square, we wanted to rethink the typical day care for seniors from the ground up. So we did just that, creating a whole new community-based center that lets senior citizens spend the day in a place that's safe, sociable, and above all fun.
We offer our members a vast range of exciting activities and experiences within an immersive locale based on a 1950s American small town – all run out of authentic, themed areas called storefronts. Our model is based on the most innovative research, the proven clinical practice of reminiscence therapy, and the need for connection and community.
 We serve seniors with and without memory difficulties and dementia, and give their usual caretakers a chance for a needed break.
We work to bring fulfillment and a sense of togetherness and belonging to seniors who have no cognitive problems, those who are in the earliest stages of dementia or Alzheimer's, or those who have more advanced forms of dementia. Everyone is welcome, everyone is treated as a friend, and everyone gets to go home feeling great about their day.
All of our staff is certified in dementia care and work to guide our members through enriching days filled with remembrance, peer conversations, and a changing roster of activities designed to engage people of varied interests and backgrounds. We also always have a registered nurse on staff and can provide many kinds of on-site medical care, depending upon location.
Between the ever-changing activities at our storefronts, our regular guest entertainment, and the well-rounded schedule available to all our members, it's always an exciting time here at Town Square! We believe people of all ages are happiest when they get to both reengage with their past experiences and try something new.
How We Care for Families
We're here for the loved ones of our members at each of our Town Square Adult Day Centers. As senior care experts, we know the importance of building trust with families of people with Alzheimer's, dementia, and other memory issues. And we take every action we can to assure our members' families that we're an ideal senior care option, whether their loved ones are with us for a short respite period or visit us daily. Learn more about how we make our adult day services a critical family resource.
For Seniors
Clinically proven

reminiscence therapy

, at a community location

There for people with dementia from early to late stages

A sense of independence and accomplishment

Rewarding social interactions with peers and staff

Opportunities to learn and try out new activities and hobbies

Increased life satisfaction and reduced stress
For Families
Peace of mind knowing that their loved one is in a safe, engaging community environment during the day

Flexible payment options and benefits available

Medication reminders and nursing care available

Coordinated care with outside providers

Nutritious meals and snacks

Focus on overall health
For Communities
A place for local seniors to come together as a community

Bringing research-backed

memory care

to anyone who needs it

Availability of expert senior care tailored to individual needs

Community-based special events, guests, and entertainment

Outreach and mentorship programs

Unique rental space for evening and weekend events
Welcoming Place for my Husband
Town Square has been a very welcoming place for my husband and for our family. The staff goes out of their way to make everyone feel special. They have an assortment of valuable activities that keep everyone moving in a forward path to a better quality of life.
– Pat Brand, wife of David Brand
Dad Came Out of His Shell
Within just two or three days Dad came out of his shell. He was treated warmly and lovingly by every staff member. He was also talking and laughing. Soon he was able to intermittently tell me about some of the people and activities he interacted with during the day. He danced with the ladies, told jokes and sang to his heart's content. This is the happiest he has been since mom died and he was diagnosed with Alzheimer's. This place is a gift from God!
– Maryann Hiteshaw, daughter of John Ashe
Town Square Has Been A Blessing
Town Square has been a blessing for us after two previous day care arrangements did not work out. The staff are so welcoming and loving as they greet clients in the morning and are really creative in keeping them active during the day.
– Lois Hybl
An Amazing Place for Seniors to Engage
Town Square is an amazing place for seniors to engage with each other and enjoy various activities. My mother attends this facility and she loves it, too bad it's not an Assisted Living because I would definitely have her reside there.
– Katrina Gardner, daughter of Betty Jones
The Best Place Around
I am so grateful for this Town Square center. From the moment we sat with Janine, I just knew my dad would be in the best care. I think that is why from the first day, he didn't mind coming. He now wants to be there every day, even on the weekends when they are closed. They took such a load off of our family's shoulders, making him so happy. This is the best place around!
– Mina P.
transformed my dad's quality of life
My dad loves the activities, social interaction with the other seniors, and the staff. He wants to go back. Everyone at Town Square is invested in making sure the seniors are safe, engaged, and having fun. I can't recommend this place enough. It really has transformed my dad's quality of life. Even if you think your parent or spouse won't like it—take the leap and try it out. I am beyond grateful I did, and so is my dad.
– Patty L.
My husband always has a great time
My husband loves going to Town Square. On the days he goes, he stands at the door waiting to get into the car. He comes home happy. The staff are wonderful. They greet him with hugs and truly make him feel welcome. He doesn't always remember what he did all day, but he had a great time. That makes me happy too! Thank you.
– Diane C.
a little glimpse of the old Shirley
Suffering from dementia, my mom has lost a lot of her personality. Town Square has given us a little glimpse of the old Shirley – the Mom I grew up with. She can be agitated and irritated with me driving there and the moment she steps back into the 1950's town with all the 1950's style store fronts, she is a changed person. Happy, flirty, competitive, sassy. It is a wonderful feeling knowing she is spending the day where she feels loved, accepted and popular. I only wish we had gone to 5 days a week sooner.
– Sklar Family
Town Square treats everyone like family
My husband Dennis was diagnosed with vascular parkinsonism and dementia a year ago. I toured Town Square and was very impressed. Town Square has so many things to keep the members busy and people to share their life stories with. Making new friends has helped Dennis to stay more alert. He is awake all day and has a better night's sleep. The people at Town Square treat everyone like family. What could be better than to extend your family? Dennis will be here for a long time.
– Oliver Family
A life changing experience
My wife Pam was diagnosed with vascular dementia a couple of years ago. The journey has been a hard one for myself and my family to navigate. I came across Town Square one day and after visiting, I knew in my heart it must be fate. Elisa, Rebecca, and the staff are knowledgeable and accommodating to Pam's needs. Becoming a part of this community has been life-changing for Pam as well as for me. I feel confident I am dropping her off in the hands of kind and knowledgeable staff and I can continue with my day-to-day. It is comforting to have found such a special place for this time in our lives.
– Weaver Family
Town Square has Changed our lives
Town Square has changed our lives.  My husband was diagnosed with Alzheimer's about 4 years ago and he is so happy to be with his friends and "buddies," 3 days a week at Town Square. We both feel loved and supported by the family we have gained. I encourage everyone in our situation to see how you too can feel that support and love.
– Gallagher Family
The Best professional caregivers
Town Square NW Austin is an incredible new respite spot for seniors! This is an attractive facility with some of the best professional caregivers I've met. The national Town Square model is centered on Reminiscence Therapy and is designed to spark memories and engage those with dementia. (Evan claims he does not have any memories to spark, but I know it takes little prompting to get him talking about his wild youth.) I was so excited when I heard about this facility starting up at Anderson Mill Rd and 183.
– Wilson Family
a beautiful facility for seniors
The residents of Austin, Texas are so fortunate that Town Square has come to town! Now there is a big, bright, beautiful, & clean facility for senior adults to spend their weekdays. My dad, Fred, has enjoyed painting, playing games, dancing and exercising to music, and many other creative and skill-appropriate activities. I never have any trouble getting him up in the morning when I say, "Today is a Town Square Day!" In addition, since he has been active and socially stimulated during the day, he sleeps well at night and is ready to go be with friends and have more fun at Town Square the next day.
– Conder Family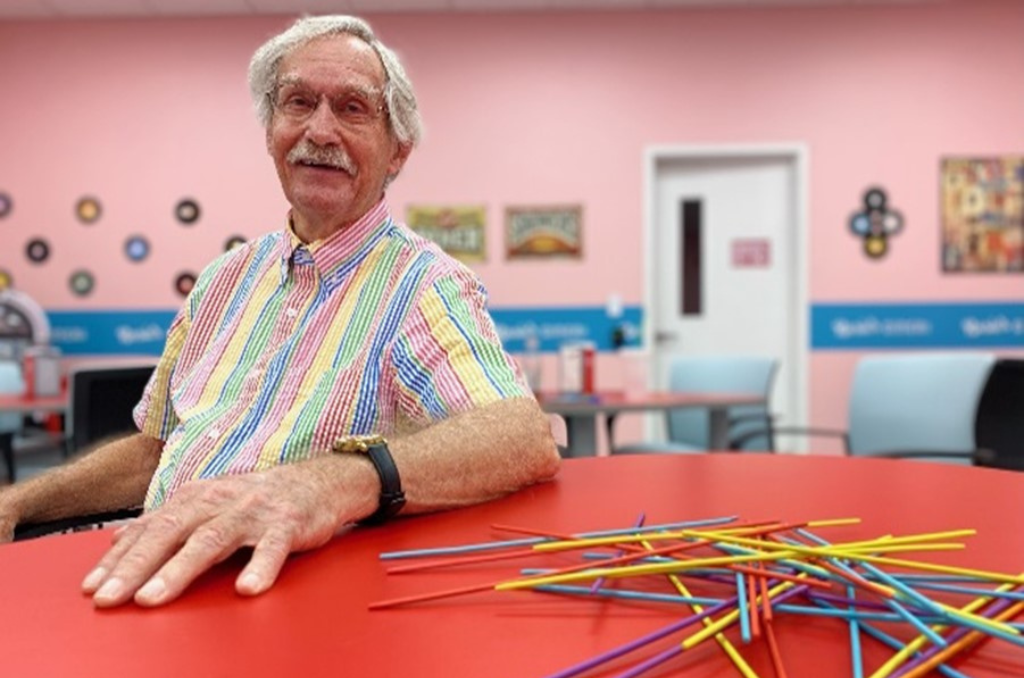 Warm and Welcoming
The staff at Town Square have been so warm and welcoming with our family. Our loved one has felt at home in their care. They have paid special attention to his specific needs and interests, and really made him feel special. They have communicated with us throughout the day and made sure that nothing has been left unchecked. They even send us videos and pictures of memories made while at the center. The activities they have available are very thoughtful, well-rounded, and just plain FUN.  We really appreciate all the support and care they offer and highly recommend them.
- Whitehead Family
A Real Sense of Belonging
My husband has benefitted so much from Town Square. All the staff are wonderful, caring people. He feels a sense of real belonging here. He calls it his club.
- Elizabeth C.
Best Place EVER
Best place EVER. My husband loves it. Incredible staff.
- Lucille B.
Kindest People EVER
Best days ever at Town Square! A great place with the kindest people EVER!
- Nancy M.
So Thankful
The staff at Town Square is awesome! Town Square is bringing my husband out and lifting his spirits. He feels very safe and loved there. We are so thankful for everyone at Town Square!
- Bonnie R.
can't stop talking about town square
The welcome my mom received from Jill and the staff made me cry happy tears of joy! The engagement, activities, and care are beyond our expectations. My mom has improved in her cognition and can't stop talking about Town Square to others!
- Michelle O.