A Revolutionary Approach
to Adult Day Care Services in Brick, NJ
At Town Square at the Jersey Shore, we're reimagining what's possible for New Jersey's senior community and offering a unique combination of activities, events, and care services that you won't find at any other adult day care center in the region.
When you enter Town Square, you're transported back to 1950s America, as the entire 12,000 square-foot facility is designed to replicate a classic town from that era. But that's just the start of what sets us apart.
Our adult day services, activities, and events are built around an innovative model of reminiscence therapy and memory care. This model was first developed by George G. Glenner Alzheimer's Family Centers, representing a new field of senior care with benefits for adults of any age, especially those living with memory loss.
Guided by our trained and certified staff, NJ seniors can discover a variety of programs and events, which are an engaging and affordable option for adult day enrichment
Our Pioneering Care Model (How it Works)
We are a complete resource for adult day enrichment, with a highly trained and qualified staff that includes medical professionals available on-site and qualified care personnel in every room. We can assist any need that may arise, and for those who need or want extra assistance, our services can be integrated with individualized companion care, including home care and transportation.
Services, Events, and Activities
On this foundation of quality care, we run a daily schedule of activities personalized to the specific needs of our community and designed to engage members of all backgrounds and interests.
When you or your loved one first join the community at Town Square, you'll receive a free evaluation of individual needs, including any related to memory loss, physical ability, and more. This way, we ensure that all activities at Town Square are delivered in a way that's right for you or your loved one.
We run activities and events throughout the day at our thirteen "storefronts." Our storefronts are themed rooms you enter for activities like painting classes at Craft Corner, or table games at the Recreation Center or classic movies in our 40 seat theater (see more below). They're planned and led by our Certified Activity Director and assistant activity professionals to create a unique and beneficial experience every day for all our community members. Throughout the center you will experience live events like music at Glenner Park or join the competition at our 60 foot long bocce court.
You can spend a full day or half day at Town Square.  Services are private pay and may be covered by long term care insurance or benefits provided for veterans and surviving spouses.  Our staff can advise these options and other benefits you might be eligible to receive.
In addition to our events and activities, we offer a range of clinical services:
Physical & Occupational Therapy
Podiatry
Audiology
Visiting Physician or Nurse Practitioner Medical Appointments
Counseling and Support
Family Support Groups and Education
Memory Screenings
Community Education
Reminiscing & Engagement
Our programming is designed to be interactive and engaging and for seniors of all ability levels. Those living with Alzheimer's disease, dementia, and other forms of memory loss can especially benefit from our sessions that focus on reminiscing, conversation with peers, and soothing activities. This new and exciting field of senior care is integrated into everything we do. It's the reason behind the classic 1950's styling of our facility.
Memory Care
Memory care is a compassionate approach to caring for someone with Alzheimer's or dementia. It acknowledges a person's memory loss while embracing the mental strengths they still hold on to, allowing them to feel good about their cognitive abilities and about themselves.
At Town Square at the Jersey Shore, our team works to connect with our members, no matter where they are on the Alzheimer's or dementia spectrum. They're trained to actively listen and thoughtfully respond in ways that encourage a sense of personal connection, while allowing our members to feel affirmed, comforted, and valued. All of these steps can help reduce stress, increase levels of social interactions, and help seniors achieve a feeling of happiness or fulfillment.
Within the practice of memory care, the emerging field of reminiscence therapy involves specific activities for seniors to find joy in the richness of their long-term memories.
Reminiscence Activities
Many seniors experience memory loss with aging, and while they're not alone in their experience, it can lead to frustration, confusion, and discomfort. To address these challenges, a new field of senior care, called reminiscence therapy, was pioneered by George G. Glenner Alzheimer's Family Center. Reminiscence Therapy is an approach built on research showing that, as seniors experience dementia, the last parts of the brain to be affected are the areas holding the memories from their formative years. These memories continue to resonate with elderly adults, even those with advanced dementia.
The benefits of reminiscing are part of the reason behind the classic 1950's styling of our facility and our programming. We use nostalgic props, music, games, movies, and other sensory experiences to evoke a person's most cherished memories. While this isn't a cure for dementia, people may experience improved restfulness at night due to reduced anxiety and improved overall happiness.
At Town Square, we're excited and motivated every day by the fact that our approach to senior day care, including quality memory care and reminiscence activities, can lead to improved quality of life among our members.
Individualized Private Duty Care & Custodial Care
Another unique advantage of the Town Square model is the range and flexibility of care options we have available. To begin with, you or your loved one may enjoy spending the day at Town Square under the supervision of our trained and certified staff. For those who need or want something more, we offer many options for additional personalized assistance.
Town Square was created by the team at Senior Helpers, a national leader in senior home care with an accredited and licensed agency in Ocean County, NJ. Through our connection with Senior Helpers of Ocean County, we can provide you with any combination of the following private duty and custodial care services:
Individual Assistance
Town Square staff can assure your comfort during the day by cueing or assisting with Activities of Daily Living–such as ambulating, transferring, and toileting. Having a bad day and can't make it to Town Square? Senior Helpers can provide in-home care for that day or daily as needed. Senior Helpers can also support recovery after hospitalization or rehab.
Combined Care
Combine your care with service from Town Square and Senior Helpers at home.  This can be done by combining a few days spent at Town Square with a few days of at home care.  At home assistance can be provided with light housekeeping, meal preparation, personal care and a variety of other needs.  Homecare services can be provided from 3 hours up to 24 hour care.  Services are provided with an individualized care plan.
Before & After Care
One of our certified home care aides can arrive at your home early in the morning, get your loved one out of bed, dressed, bathed, and fed, and/or transported to Town Square. At the day's end, an aide can bring your loved one home and, if desired, prepare a meal and assist with evening care.
Get to Know Our Storefronts!
The first thing people notice when they enter Town Square at the Jersey Shore, that makes us a truly unique adult day enrichment center, is our storefronts.
These themed activity rooms create an immersive 1950s experience that enhances our activities and engages our members in a wide range of stimulating, nostalgic experiences — including recreation and games, meals with friends, learning groups, and wellness programs.
Health and Wellness Services – An open space equipped with the latest technology, used for group exercise, physical and occupational therapy, other adult day health programs, performances and events, and large group activities.
Community Gathering
Located in the heart of Town Square (and named for memory care pioneer George G. Glenner), Glenner Park is a center for community activities, events, and performances.
Classic Theater and Cinema
Featuring names like Lucille Ball, Red Skelton, and Doris Day — the starlight theater presents classic 1950s TV shows, musicals, and movies, plus entertainment from local performers.
Central Office
Our "City Hall" is the office space for Town Square staff. Occasional activities take place here, and members are always welcome to stop by and say hello.
Nostalgic Dining
Enjoy meals and snacks in a classic setting  complete with a playing jukebox and images of burgers, milkshakes, soda jerks, and classic cars. Get a table and catch up with friends at this bright and cheerful diner.
Home Sweet Home
The Little Blue House is designed as a cozy 1950s family room, where members can relax and make themselves at home as they watch a classic TV show or listen to music.
Hair Cuts & Styling
Get a clean shave, a fresh cut, or a new 'do while socializing at our classic salon. Book your appointment in advance to ensure the availability of our salon services.
Vintage Cars
At Chumley's Garage, you can gather around and admire the cars of the 1950s, while sharing stories about friends who owned such cars and the adventures you took in them.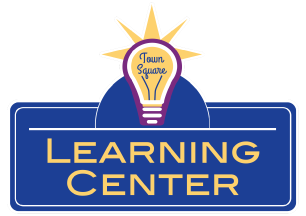 Active Minds
A dynamic, multipurpose learning space that includes reading materials, classes, and the use of technology. Our learning center stimulates thinking skills and inspires curiosity.
The Songs We Love
Music is an important aspect of our reminiscence therapy and community building. Join us here for activities like sing-alongs, "name that tune", drum circles, or put a favorite album on the turntable for quiet listening.
Creative Expression
A therapeutic space for crafts, artistic expression,  and other creative activities. We can help build your artistic skills, and we proudly display our community members' works of art.
Classic Games & Activities
Get a group together to play pool, classic board games, cards, and more. Our recreation center is a great place to relax, socialize, and stimulate your mind through games and conversation.
More About Our Senior Care Services & Programming
To learn more about Town Square, reach out or stop by for a free tour. We also offer an ongoing schedule of free events open to anyone who'd like to experience Town Square and get to know our community.
Burgers, brews, & bocce
Card parties, bingo
Community concerts
Senior movie night
Instructional classes
Themed events
Drum circles
Veterans Day Ceremonies
Seasonal events, like Winter Wonderland at Town Square
And more
Our Team
Town Square at the Jersey Shore was imagined and founded by a fully licensed and accredited team with over a century of combined experience in the senior care industry. All our staff members are trained and certified in a specialized dementia and Alzheimer's program.
It is this strong foundation of professionalism and experience that allows us to confidently provide compassionate, innovative, and top-quality care every day.
Our Jersey Shore Family Center (Dementia Care Connections)
The Family Center is unique to Town Square's Jersey Shore location and was specifically designed to serve the needs of our families and community, with free weekly services that include:
Caregiver support groups
Weekly Memory Cafés
Health fairs
Monthly workshops
Memory screenings
Virtual reality dementia experiences
Care consultations
Referrals for support services
Professional education and CEU's
Conferences
Experience a New Type of Adult Day Care Center
When you spend the day at Town Square, your experience will surpass what's available at other types of adult day care centers in NJ.
With our focus on immersive experiences, specialized events and activities, additional clinical services, and extensive professional experience, Town Square's adult day services are designed to stimulate the minds and invigorate the spirits of our friends in New Jersey's senior community.
This may look like the 1950s, but this is the future of adult day enrichment.
PRIVATE EVENTS
Consider hosting your next event at Town Square at Jersey Shore. Our facility has spaces available in a variety of sizes, and our unique venue is full of conversation starters that will leave a memorable impression on your guests.
Popular events held here include (but are not limited to):
Weddings
Anniversary Parties
Bridal and Baby Showers
Graduation Parties
Sweet Sixteen Parties
Family Reunions
Company Holiday Parties
Team Building Events
Milestone Birthdays