Reminiscence Therapy and Activities for Seniors with Dementia in the Atlanta Area

WHAT ARE REMINISCENCE THERAPY SERVICES?
Have you ever heard a song you loved years ago or tasted a dish you had on a significant day in your life and contemplated your past in that moment? There are sensory experiences that can take us back to a moment in time, awakening recollections and feelings from long ago.
Reminiscing can be a powerful tool to improve mental health. With the guidance of trained professionals, reminiscence therapy can greatly increase the quality of life of individuals with Alzheimer's disease or other forms of dementia.
The George G. Glenner Alzheimer's Family Centers have pioneered the use of reminiscence therapy for individuals with dementia. Discussing past experiences and memories promotes cognitive, social, and emotional well-being. This is in accordance with Dr. George Glenner's own hypothesis that reminiscing can give seniors a sense of purpose and improve their outlook on life.
Reminiscence therapy has become a recognized form of psychological support for individuals with dementia. It is often used in conjunction with other forms of therapy to help seniors alleviate anxiety and depression and gain a sense of fulfillment.
HOW DOES REMINISCENCE THERAPY WORK?
The brain is a complex organ capable of storing memories in different areas based on their importance and type. In other words, for example, long-term, formative memories are associated with a different region of the brain than recall of the previous day's events.
In the case of dementia, individuals who have this condition have an impaired capacity to form and access memory, which worsens over time. However, long-term memories can be retained better due to their strong consolidation and reliance on different neural pathways.
Reminiscing about the past can be a great way for anyone to find meaning and closure. But for those with cognitive conditions, it has tangible benefits ranging from reduced anxiety and less frequent mood swings to improved quality and quantity of sleep, which is why reminiscence therapy is considered one of the best interventions for dementia.
HOW IS REMINISCENCE THERAPY PERFORMED?
Town Square Sandy Springs is designed to resemble the 1950s and early '60s, the time period in which many seniors with dementia grew up. This nostalgic backdrop is crafted to evoke salient positive memories and emotions from our members' formative years. The familiar environment helps our members feel at ease, form social connections, enjoy the benefits of therapeutic reminiscence, and enjoy a fulfilling day in the care of our staff of highly trained dementia care practitioners. Reminiscence is just one important pillar of the four evidence-based therapies for dementia we put into practice, which also include physical activity, socialization, and quality nutrition.
WHAT ARE THE BENEFITS OF REMINISCENCE THERAPY FOR OLDER ADULTS WITH DEMENTIA?
While there is sadly no cure for dementia available at this time, reminiscence therapy can be a valuable tool for improving quality of life by promoting socialization, cognitive function, and emotional well-being. Although reminiscence therapy primarily focuses on improving psychological and emotional health, there are secondary physical health benefits that come from lessened anxiety and better sleep.
WHAT ARE THE REMINISCENCE ACTIVITIES OFFERED AT TOWN SQUARE SANDY SPRINGS?
Town Square Sandy Springs is the first adult day care of its kind in the Atlanta area. Designed to resemble mid-twentieth century small-town America, our 13 different storefronts are not just for show. Each one is fully functional and serves a specific purpose in promoting reminiscence therapy.
13 Types of Gentle Reminiscence at Our Storefronts
Each of the unique themed activity areas in our center, called storefronts, hosts a different category of reminiscence therapy activities: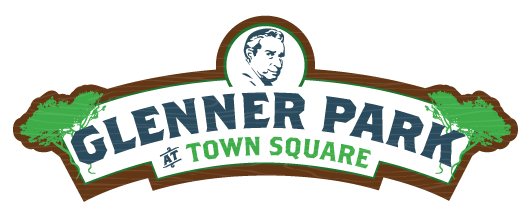 Glenner Park:
At the center of Town Square lies Glenner Park, a serene space named after George G. Glenner, the pioneering dementia researcher who greatly advanced the field of reminiscence therapy. The park offers a peaceful atmosphere and comfortable benches for socializing with friends, and it's also an excellent spot for group exercise sessions and gatherings, making it a perfect place to connect and engage.
Ronnie's Garage:
Ronnie's Garage is a nostalgic tribute to the golden era of American automobiles, reviving fond memories of road trips with loved ones. The garage showcases a rare vintage 1964 Ford Thunderbird, restored to its former glory.
Craft Corner:
At the Craft Corner, creativity reigns supreme. We nurture fine motor skills, emotional expression, and innovative thinking with each project. Our members' completed works are displayed to the Town Square community before they take them home to their loved ones. 
Rosie's Diner:
 Rosie's Diner is built to recall hometown lunch spots of the 1950s and '60s. Rosie's serves delicious and healthy meals in a lively diner setting with a working jukebox, promoting reminiscence, socialization, and proper nutrition at once.
City Hall:
City Hall is home base for our staff, where our team is always happy to answer questions and concerns or just say hello. This is more than just a central office – we take pride in honoring our veterans with a special tribute on our walls.
Health Club:
At our Health Club storefront, we offer fitness technology and programs designed with seniors in mind. Our facility features an expansive exercise area that hosts daily classes like yoga, drum circles, and strength training. Our resistance chairs provide a spectrum of low-impact exercises that are gentle on the joints and beneficial for both upper and lower body strengthening.
Town Square Library:
At our library, we invigorate the minds of our members by providing a trove of reading material they may remember from their youth, bringing memories of moments in history to the foreground. Our books also make fine companions while sitting outside on a bench in Glenner Park.
Little Blue House:
Make yourself at home in the Little Blue House, our rendition of the familiar living rooms from mid-twentieth century America where the whole family gathered together. Featuring comfy sofas and soft music, this is a peaceful space where members can settle in a rocking chair, relax, and unwind.
Spinner's Music:
Music therapy can be one of the most effective treatment strategies for triggering memories and emotions and improving cognitive function. At Spinner's Music, members can appreciate a classic record, join in a singalong, or challenge their peers at music trivia.
Recreation Center:
From vintage board games to nostalgic puzzles and card games, there is something for every member to enjoy in our rec room – even a classic dart board and pool table. Not only are these games a great way to have fun, but they also provide an opportunity to exercise cognitive function and improve social skills.
Starlite Theater:
Step back in time to the glitz and glamor of classic Hollywood at the Starlite Theater. We screen everything from iconic films to beloved TV shows and Broadway musicals. We host movie trivia and for those who like the spotlight, we present improv and talent shows, as well as visiting artists who grace our stage.
Guys & Dolls Salon:
Pampering is on the agenda at Guys & Dolls Salon, our working hair and nail salon in a vintage-style setting. Whether it's a new haircut, a fresh color, or a manicure or pedicure, a change in style can be rejuvenating. Since these services are all popular, we recommend scheduling an appointment in advance.
Dottie's Garden Shop:
Dottie's Garden Shop is our storefront dedicated to the restorative power of connecting with nature. In this outdoor space, our members have a chance to tend to the plants, enjoy a woodworking project, or simply take in the sun and fresh air.
Experience the Joy of Reminiscence at Town Square Sandy Springs
With our active storefronts, unique and all-encompassing retro-style environment, and exceptionally trained staff, Town Square Sandy Springs offers a dynamic and innovative adult day care program for seniors in the North Atlanta area. With reminiscence therapy at its core, our engaging program and personalized care provide a vibrant experience for all our members. We can help your loved one remain at home while enjoying stimulating activities and socialization with peers during the day on weekdays. By integrating our services with home care, our program offers families an affordable and high-quality option for their loved ones.
At Town Square Sandy Springs, we've created a program that provides a visionary and exciting approach to adult day care. We welcome you to contact us today to arrange a tour and discover the difference that Town Square Sandy Springs can make for your loved ones and you.
Contact us here or call 404-595-2034 today to schedule a free tour. We look forward to reminiscing about fond memories, while we make new ones with you and your family.