OUR ADULT DAY SERVICES IN SANDY SPRINGS
Our number one goal at Town Square Sandy Springs is to bring happiness, fulfillment, and dignity to our members, whether they are with us five days a week or just for a few days while their caregivers take a break.
Our world-class programming is rooted in reminiscence therapy, a revolutionary approach that encourages reflection on formative memories, those formed in teenage years and twenties. The design of our center simulates a mid-century American town with themed activity zones or "storefronts" which provide the backdrop for a truly enriching experience.
Our Commitment to Dementia Care
Our dedicated staff members are trained in expert-developed memory care techniques, but we embrace all of our members regardless of cognitive ability in a way that meets their individual needs and interests.
Learn more about how Town Square marries therapeutic dementia care with fun and social activities.
Introducing Our Storefronts
Town Square Sandy Springs boasts 13 separate storefronts. Our members have a varied and interesting day thanks to visiting these stylized areas, which all focus on a specific activities that align to one or more of our four intervention objectives: productive, leisure, wellness and restorative.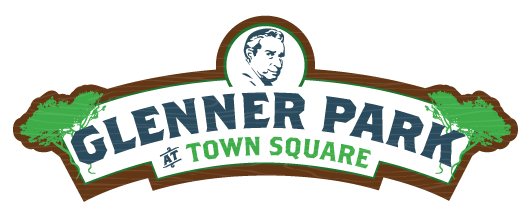 Glenner Park
Glenner Park, named for George G. Glenner, the dementia research pioneer who helped form the basis for our concept, is at the heart of Town Square. Glenner Park is a relaxation space that features benches to sit and converse with newfound friends or see a performance featuring a guest artist. Glenner Park is also the site that may be used for exercising together and large group gatherings.
RONNIE's Garage
Ronnie's Garage brings back memories of road trips with family and friends. There's nothing like stopping at a small-town service station – we pay homage to that experience during the golden era of the American automobile. Chumley's Garage features a rare and dazzlingly restored 1964 Ford Thunderbird. This beauty of a vehicle evokes reminiscence – a literal drive down memory lane.
Craft Corner
Our Craft Corner is the place for creativity. We encourage not only emotional expression, but innovative thinking, and fine motor dexterity. We proudly display each member's work before these pieces are brought home to loved ones. The Craft Corner offers a wide variety of crafting supplies, and we hold lessons on both new techniques and special mediums.
Rosie's Diner
The working jukebox in Rosie's Diner brings back memories of favorite lunch spots of the 1950s and 60s. Rosie's offers delicious meals and healthy snacks throughout the day in a bright, cheerful diner environment – adorned in vintage Coca-Cola memorabilia. Our members socialize and dine while listening to the tunes they grooved to in their youth.
City Hall
City Hall is our staff headquarters, where our leadership team is always willing to answer your questions, address any concerns, or just say hello when you stop in. We are proud of the walls in City Hall, as they pay special tribute to our military veterans.
Health Club
Senior-friendly fitness technology and programming is offered in our Health Club storefront. This space features an open exercise area where we hold daily exercise classes like yoga, drum circles, and strength training with our resistance chairs that allow for a wide range of low-impact, upper and lower body exercises.
Library
Our Library stocks an assortment of books to be enjoyed within this space or read on a bench in Glenner Park. The Library also features a variety of mid-century magazines which present a vivid record of history our members can use as a point of reminiscence. The Library is only one of the many ways we engage our members' minds.
Little Blue House
The Little Blue House is our version of a typical mid-century family living room. This is the place where our members make themselves at home, literally and figuratively. It features comfortable seating, quiet activities, and soft music – the perfect setting for some downtime.
Spinner's Music
Our members can head over to Spinner's where they can spin a favorite record, play a classic guitar, dance, take part in a singalong, test their retro rock and pop knowledge, or engage in one of our other curated music appreciation activities.
Recreation Center
Our Recreation Center stimulates the mind and cognitive abilities with our vintage game night vibe. We offer board games, darts, card games, and puzzles, in addition to a pool table where our members can join their Town Square friends for a rousing game.
Starlite Theater
The Starlite Theater features classic entertainment that takes us all back to the glamor that was 50's and 60's Hollywood. Our members screen movies, TV shows, and musicals of the era, plus performances from visiting artists. The theater also hosts movie trivia and discussions, improv activities, and talent shows.
Guys & Dolls Salon
Our Guys and Dolls Salon is a working hair and nail salon. Members can arrange to have their hair cut, colored, washed and/or styled – or get a manicure or pedicure in a retro parlor setting.
Dottie's Garden
Dottie's Garden is an outdoor space where members have the opportunity to grow and maintain small plants, herbs, and succulents, participate in woodworking projects, or simply get some fresh air and sunshine. It's a place that fuels the mind, body, and soul.
Our Other Services
We tailor our services and programming to fit the needs of not only our members and their families, but also our community at large. We rent the facility our on evenings and weekends for special events including birthdays, anniversary parties, corporate meetings, and even group visits from senior living facilities. Visit our FAQs page or contact us to learn more.
In addition to our regular schedule of activities, we offer:
Free care consultations with our director and experienced gerontologist

Opportunity to host physical & occupational therapy sessions

Monthly member health assessments

Coordination of care with outside healthcare providers

Showers and other personal care needs

Hair and nail services

Regular in-person and virtual support groups

Educational events