Town Square Marlton is Opening Soon!
Coming Soon: Town Square Marlton Will Combine Adult Day Care with Memory Care in Burlington County 
Town Square is excited to announce we're expanding our reminiscence-focused adult day care to a new area in South Jersey, giving more seniors a chance to experience our therapeutic, healthy, and joyous adult day services. Our senior day centers are open to everyone, but are particularly suited to helping people with Alzheimer's disease, dementia, and other memory and cognitive disorders enjoy fun and purposeful days in a secure, interactive environment. We're really looking forward to meeting our new members from Marlton, Evesham, Medford, Mount Laurel, Cherry Hill, and beyond!
A day at Town Square is spent with peers who are just as eager to socialize, learn, and get creative. The design of our center faithfully mimics an idealized small town from the middle of the 20th century in order to help our members get in touch with cherished memories from their formative years. Our unique activities and changing slate of guest performances spark reminiscence, enhance social connections, and engage our members throughout the day. Plus, our commitment to a very high standard of care and therapeutic model backed by brain research offers caregivers and families absolute peace of mind.
Town Square's comprehensive mid-century aesthetic and uniquely crafted activity areas, which we call storefronts, are an integral part of our approach to adult day care. We utilize practices from reminiscence therapy, a dementia care modality developed by the George G. Glenner Alzheimer's Family Centers. Studies have shown that reminiscence therapy can mitigate stress in people with cognitive disorders, allow them to get better quality sleep, and overall support their quality of life in many other ways.
Town Square's Model of Care
Current research into cognitive disorders shows that people who have dementia can readily access memories from their teens and twenties, the years when they experienced many significant, formative life events, much more easily than memories of more recent times. Individuals with Alzheimer's disease can connect with others by using these strong and salient memories as a starting point. 
Town Square Marlton has the middle of the 20th century as its theme because most people with a cognitive disorder today came of age during those years. We carefully chose our design elements to remind our members of their most cherished memories from this time as a way to begin fulfilling discussions and enjoyable socialization. 
Unfortunately, no form of dementia has a cure at this time, but reminiscence therapy has some of the best results for people with cognitive disorders out of all forms of memory care. Town Square's members who attend other locations – such as our other NJ centers in Princeton and at the Jersey Shore in Brick – have seen such benefits as improved mood, a greater ability to socialize and converse with family members, a reduced need for certain types of medication, and many others.
Step Inside
Our innovative activity rooms, called storefronts, help put members at ease and encourage reminiscing by utilizing vintage design elements and décor.
Each storefront, from the Rec Center to Starlite Theater to Glenner Park, has been meticulously designed to create an immersive, nostalgic environment where memories come to the forefront and members are inspired to share stories with their peers.
Rosie's Diner
A bright and cheery place to enjoy meals and snacks. Be transported to the days of milkshakes, soda jerks, and jukeboxes!
COMMUNITY GATHERING
The heart of Town Square, used for activities, performances, and special events. Benches are available to relax and visit with friends.
CLASSIC THEATER AND CINEMA
Enjoy the glamor of 1950s Hollywood with classic movies, musicals, and TV shows as well as entertainment from local performers.
CENTRAL OFFICE
Serves as office space for Town Square staff, with members stopping by and occasional activities taking place.
HEALTH CLUB
An open area with full technology capabilities, used for group exercise, performances and events, and large group activities.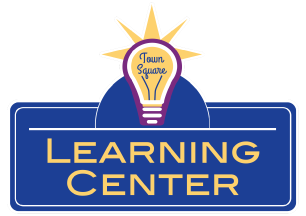 Active Minds
A dynamic, multipurpose learning space that includes reading materials, classes, and use of technology for virtual tours, and even virtual reality headsets. Our learning center stimulates thinking skills and inspires curiosity.
CReative Expression
A therapeutic space for crafts, artistic expression, and other creative activities. We can help build your artistic skills, and we proudly display our community members' works of art.
VINTAGE CARS
The perfect spot for car buffs to gather around a real-life vintage car, browse car magazines, and talk all things automotive.
Music & Memories
Music is an important aspect of our reminiscence therapy and community building. Join us here for activities like sing-alongs, "name that tune", drum circles, or put a favorite album on the turntable for quiet listening.
CLASSIC GAMES & ACTIVITIES
Pass the time by shooting pool and playing classic board games, vintage table games, cards, puzzles, and more—there's something for everyone!
Phil's Newsstand
Pick up a newspaper or magazine from the 1950s and 1960s, or something more current, and head to a park bench to read and relax.
Little Blue House
Designed to mimic a cozy family living room from the 1950s, members feel at home as they relax, watch a classic TV show, or listen to music.
HAIR CUTS & STYLING
Get a clean shave, a fresh cut, or a new 'do while socializing at our classic salon. Book your appointment in advance to ensure the availability of our salon services.
How We Benefit Our Members, Their Loved Ones, and the Community
Town Square Marlton looks forward to serving the community with the best adult day care in western Burlington County. We can't wait to host our members for amazing days filled with vintage recreation, friendship, creativity, music, and more. But we're also grateful to be a part of that community. 
We plan to invite local performers to entertain our members as a regular part of our programming, offer outreach and mentorship activities for students, and more, and we're proud to let our members' loved ones know we are empathetic dementia care experts who provide a safe and engaging place to spend the day.
We will also hold Family Center programs, which will include caregiver support groups, educational seminars, training for primary caregivers of people with dementia, and more. We hope to be an asset to our community and spread a positive message about aging gracefully and with purpose and intention.
For seniors and their families in other regions of New Jersey who are interested in the amazing adult day programs and supportive services that Town Square has to offer, we are able to serve you closer to home! We invite you to view our Brick and Princeton locations, which have the same great model of senior day care in Ocean and Mercer Counties. 
Come See Us After Hours!
Did you know that Town Square is available to rent after hours as the perfect event space for your next get together? Here are just some of the events that would be made even more special by our unique décor and entertaining storefronts:
Birthdays & Anniversaries
Support Group Meetings
Book Club
Craft Show
Paint Night
Car Club Meetings
Fundraising Events
Karaoke
Concerts and Performances
Jazz Night
Holiday Parties
Craft-making Classes
Bingo
Group Exercise
Private Parties
Group or Club Meetings
Medical or Health Presentation
And so much more!