WELCOME TO TOWN SQUARE

Combining Adult Day Care, Reminiscence Therapy, and Vintage Fun!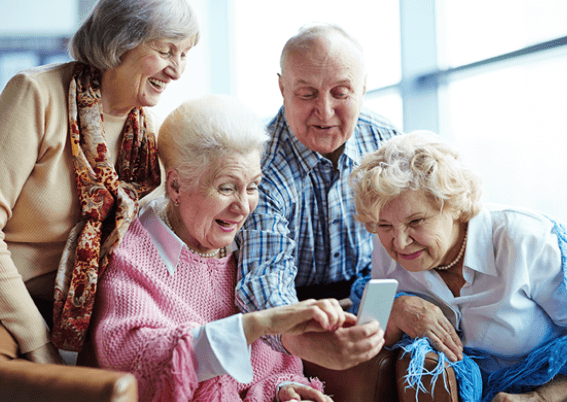 At Town Square, we wanted to rethink the typical day care for seniors from the ground up. So we did just that, creating a whole new community-based center that lets senior citizens spend the day in a place that's safe, sociable, and above all fun.
We offer our members a vast range of exciting activities and experiences within an immersive locale based on a 1950s American small town – all run out of authentic, themed areas called storefronts. Our model is based on the most innovative research, the proven clinical practice of reminiscence therapy, and the need for connection and community.
 We serve seniors with and without memory difficulties and dementia, and give their usual caretakers a chance for a needed break.
We work to bring fulfillment and a sense of togetherness and belonging to seniors who have no cognitive problems, those who are in the earliest stages of dementia or Alzheimer's, or those who have more advanced forms of dementia. Everyone is welcome, everyone is treated as a friend, and everyone gets to go home feeling great about their day.
All of our staff is certified in dementia care and work to guide our members through enriching days filled with remembrance, peer conversations, and a changing roster of activities designed to engage people of varied interests and backgrounds. We also always have a registered nurse on staff and can provide many kinds of on-site medical care, depending upon location.
Between the ever-changing activities at our storefronts, our regular guest entertainment, and the well-rounded schedule available to all our members, it's always an exciting time here at Town Square! We believe people of all ages are happiest when they get to both reengage with their past experiences and try something new.
How We Care for Families
At Town Square, we're here for the loved ones of our members. As senior care experts, we know the importance of building trust with families of people with Alzheimer's, dementia, and other memory issues. And we take every action we can to assure our members' families that we're an ideal senior care option, whether their loved ones are with us for a short respite period or visit us daily. Learn more about how we make our adult day services a critical family resource.
For Seniors
Clinically proven

reminiscence therapy

, at a community location

There for people with dementia from early to late stages

A sense of independence and accomplishment

Rewarding social interactions with peers and staff

Opportunities to learn and try out new activities and hobbies

Increased life satisfaction and reduced stress
For Families
Peace of mind knowing that their loved one is in a safe, engaging community environment during the day

Flexible payment options and benefits available

Medication reminders and nursing care available

Coordinated care with outside providers

Nutritious meals and snacks

Focus on overall health
For Communities
A place for local seniors to come together as a community

Bringing research-backed

memory care

to anyone who needs it

Availability of expert senior care tailored to individual needs

Community-based special events, guests, and entertainment

Outreach and mentorship programs

Unique rental space for evening and weekend events